Sarah Wilson, the heroine of 'The Story Menders', lives in London, somewhere in Holborn or Clerkenwell. The story is set roughly in 2004 and Sarah who studied at  London Guildhall University/ London Metropolitan University has decided to make her home in the area, especially as her brother Charlie, to whom she is very close, is at UCL and living nearby. At the beginning of the story she's looking for a permanent job, so she can afford to stay there.
I suppose I chose this area to write about because I know it and like it, and it seemed important to ground the story in a real place.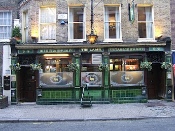 Lambs Conduit Street where a lot of the action takes place is a quirky area with its mix of designer shops, galleries and cafes, and its eponymous pub, The Lamb, with its glass screens and old photographs, where Sarah has her creepy experience. In my story the street also contains Clement Crossland's publishers and Oliver's Passage, which in reality is Emerald Street, where Sarah went for her memorable interview in Cartwright Buildings.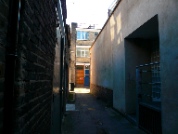 If you walk west along Great Ormond Street, past the Children's Hospital, you will find yourself in Queen's Square, with another historical pub 'The Queen's Larder', 
where Jez takes James Sansum, but if you go north into Guilford Street a short walk will bring you to Russell Square tube station and from there you can travel upto Highbury and Islington, then across the road to Canonbury Square where Clement Crossland lives. Canonbury is a very old area, with its ancient tower and houses,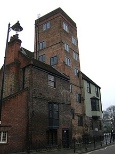 some of which date back to Tudor times although most of the area was developed in the nineteenth century. Again there is some literary licence in my description of Clement's house and the alleyway which runs behind it, but I hope as with Lamb's Conduit Street that if you went there you would capture some of the atmosphere that I've experienced on my visits.