I've had my beautiful blue Surly Long Haul Trucker for a year now,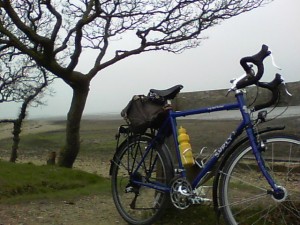 so it seems a good time to record my impressions now that the initial romance has worn off.  I can still remember my first impression on a test run of the bike: "Wow this is the most comfortable bike I've ridden!", and 3700 km later that is still a striking feature. In fact having changed the horrible original saddle for my old Brooks B66 the bike now feels like a favourite leather armchair; it really is a wonderfully comfortable bike that you can ride all day with no aches and pains. The LHT flows so easily you don't need to think about it, just enjoy the views and the ride. This adherence to Newton's First Law of Motion is reinforced by the totally neutral handling, the bike feels neither quick nor slow, the best short description of the handling is 'non-intrusive' because you never really notice the handling characteristics.
Most of my rides on the LHT have been longish day rides for fun, and the bike has been great in this role. However part of my reason for buying the LHT was its capability for multi-day tours. I didn't get my touring act together in 2011 so can't report on how it works in this role, but maybe this year I'll be able to get away for a few days on the bike.

What isn't so good? Well the LHT isn't a fast bike; it has a strange character in that it will roll along very happily at the speeds it likes to go, in my case this is around 24 kph in neutral conditions. At these speeds the bike becomes transparent (in the sense that you don't notice the need to input the power). But try to maintain faster speeds and it becomes reluctant; you can always feel its need for the extra input, and sooner rather than later you relax back into the speed it wants to go. The exception is going downhill; the LHT descends brilliantly thanks to the long wheelbase, the low bottom bracket and neutral handling, it remains firmly planted on the road and carves through bends really nicely, making it a really fast, confidence-inspiring downhill machine. However what goes down must come up, and for my taste the LHT isn't the most pleasant climber; the bike doesn't respond well to being pushed … you can stick the bike in one of its very low gears and grind your way uphill but it's really slow doing it this way, and if you try dancing on the pedals in a higher gear the bike reminds you of its weight and you soon revert to the low gears and take it easy until the hill is crested.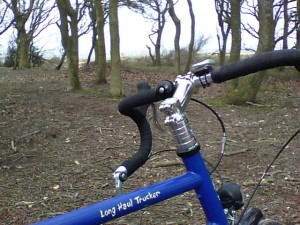 Nothing has broken during the past year and everything works well now that Brixton Cycles have reconfigured the Tektro Oryx brakes. These cantilever brakes work OK now, but they are not great stoppers and may become a bit marginal if the bike is heavily loaded. Brixton Cycles are a great source of sensible advice and knowledge – and good people to deal with, I can wholeheartedly recommend them with no reservations. I ordered the LHT with a Shimano hub dynamo, but I kept the original front wheel as well to save wear on the dynamo when there was no possibility of cycling in the dark. However I've used the original wheel very little as night-riding has been a possibility on so many of my rides, and the lights have often been useful during the daytime in English mists and town traffic.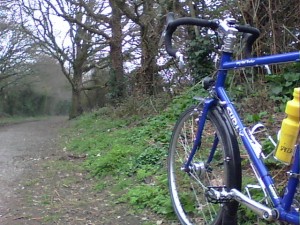 The calm, well-mannered behaviour of the bike makes it equally at home on off-road trails as it is on tarmac; it's a real "go anywhere" bike unless you want to explore more extreme mountain bike routes. On gravel or hard packed mud it is really secure and seems quite happy to roll gently along, giving the rider plenty of opportunities to enjoy the scenery.
Overall I'm very pleased to have the LHT as part of my limited stable of bicycles. It's not my first choice for a fast ride, or even to go shopping (although it could fulfil this role really easily), it's not my most fun bike (that would be my fixed wheel), but for a l_o_n_g day in the saddle in mixed conditions it's my top bike.